sketch-a-day day 1

kasey_draws and i are doing a sketch-a-day

it's not for anything i just can't get myself to finish any drawings. so i'm gonna try to post one thing a day! quality is optional, subject matter is predictable.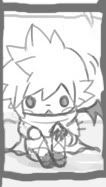 tiniest sephiroth is still mean, but mean in the tiniest way

i forgot to draw the comic where smallest sephiroth and leon show up. i guess i'll do it later. it'll be a prequel.